Information
Welcome!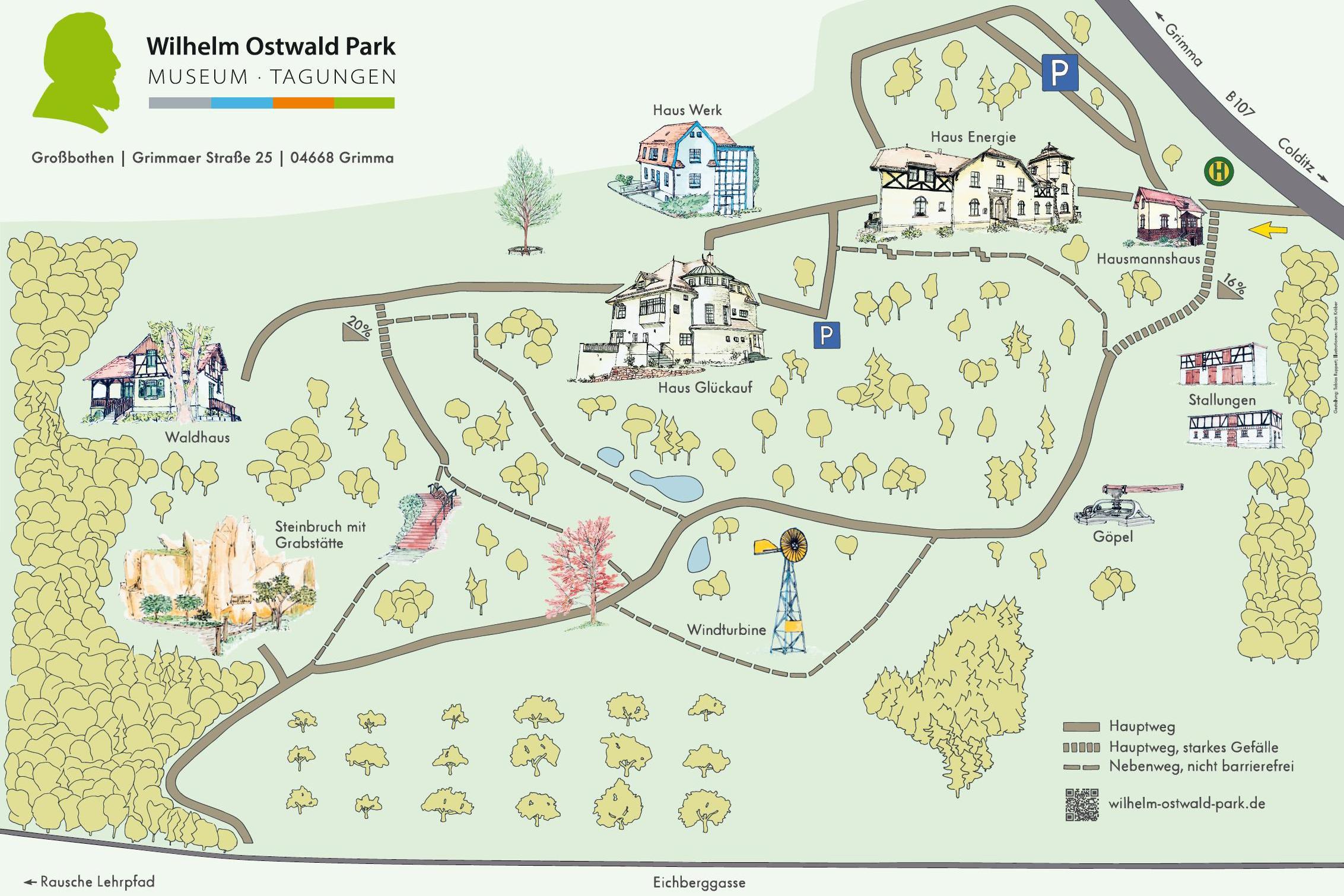 Opening times
Public opening hours: 10 am to 5 pm daily (except Thursdays) including on public holidays.
For the benefit of general health and infection control, we offer disinfection dispensers and encourage you to use them.
People with cold symptoms or signs of respiratory illness should postpone their visit to Wilhelm Ostwald Park. Otherwise, we recommend wearing a respiratory mask indoors.
Observing sneeze and cough etiquette, as well as keeping a distance from other people, will help reduce the risk of infection.
Accessibility
We warmly welcome all visitors and would like to make in possible for people with reduced mobility or sensory impairments to have a pleasant visit. Please contact us if you need any assistance during your visit and we are happy to help you.
Parking spaces are available for disabled visitors.
Many of our paths in the park are wheelchair-accessible, as are our outdoor terraces.
There is barrier-free access to the permanent exhibition in Haus Energie.
The toilet for people with reduced mobility is located in Haus Werk.
Assistance dogs and guide dogs are welcome.
We also offer guided tours of the museum and the park for the blind and visually impaired by prior arrangement.
Prices
ADMISSION TO MUSEUM & PERMANENT EXHIBITION
Adults: 3.50 €
Concessions: 2 € (schoolchildren, trainees, students, OAPs, disabled visitors)
Non-school-age children: Free
Families: 7 € (2 adults + school-age children)
Groups: 2 € per head (minimum 10 people)
ADMISSION TO TEMPORARY EXHIBITION
Adults: 3.50 €
Concessions: 2 € (schoolchildren, trainees, students, OAPs, disabled visitors)
Non-school-age children: Free
Families: 7 € (2 adults + school-age children)
Groups: 2 € per head (minimum 10 people)
COMBINED TICKET FOR TEMPORARY AND PERMANENT EXHIBITION
Adults: 5 €
Concessions: 3 € (schoolchildren, trainees, students, OAPs, disabled visitors)
Non-school-age children: Free
Families: 9 € (2 adults + school-age children)
Groups: 3 € per head (minimum 10 people)
GUIDED TOURS OF THE MUSEUM AND PARK
1 hour each
Guided tour of the museum: 50 € per group (up to 15 people)
Plus 2 € admission per head
Guided tour of the park: 50 € per group (up to 25 people)
SEASONAL TOURS OF THE PARK
1 hour each; 4–20 participants
'On the trail of winter' (December to February): 3.50 € / 2 €
'Spring and new energy' (March to May): 3.50 € / 2 €
'Golden summer' (June to August): 3.50 € / 2 €
'Autumn for all the senses' (September to November): 3.50 € / 2 €
MUSEUM STUDIES PROGRAMME
About 2 hours, including experiments and guided tour of the museum or park
50 € per group (up to 10 children + 1 accompanying adult, large groups will be divided)
Plus 1.50 € material costs per child
NATURE STUDIES PROGRAMME
Normally about 1 hour; longer on request
From 25 € per group (up to 10 children + 1 accompanying adult, large groups will be divided)
Plus 1.50 € material costs per child for workshops with experiments